Winter in the Pacific Northwest can be a challenging time for preschoolers (and their mommies and daddies!) Shorter, colder, wetter days means more time indoors and more time to try and fill with engaging activities. What is a parent to do when they start to feel the "stir crazy" coming and want to limit the amount of screen time their child is exposed to?
Enter… Play to Learn Ideas For Rainy Days!
These ideas are preschool classroom and home playroom tested, which means we've tried them and they will appeal to broad range of kids ages 3-5. I also tried to keep in mind that, as a mom, we need to keep the clean up to a minimum (ain't nobody got time to scrape slime out of carpet!). With that said, you do need to give your self some prep time and gather supplies before the afternoon starts to spiral out of control. A few of the ideas require deciding on the project the night before so that you can utilize your freezer or run to the Dollar Tree. Other than that, these are some cheap, easy, and FUN ideas to get you and your preschooler playing and learning on a wet and grey winter's day!
Throw a Stuffy Party!
Recently my daughter received the most thoughtful and imaginative gift: a Party Planning Kit!
It contained items from the dollar store: invitations, paper plates, party hats, streamers, balloons, and goodie bag supplies. She was ecstatic! Sh
e ran to her room and picked out her favorite stuffy who was due for a birthday party, then sent invitations to everyone in our family.  I just stood back and let her have the reigns! She needed a little help blowing up balloons and hanging streamers, but the rest she did herself. She set the table, gathered the "guests" (other stuffys), and picked out gifts from her toy box to wrap in paper towels and tie with string (we aren't too fancy for paper towel gift wrap around here). I also provided granola bars and apple sauce pouches for the guests- but if you're feeling brave it would be a fun opportunity to bake with your child! She felt so proud of her party planning skills and it was one of the most fun afternoons we've had!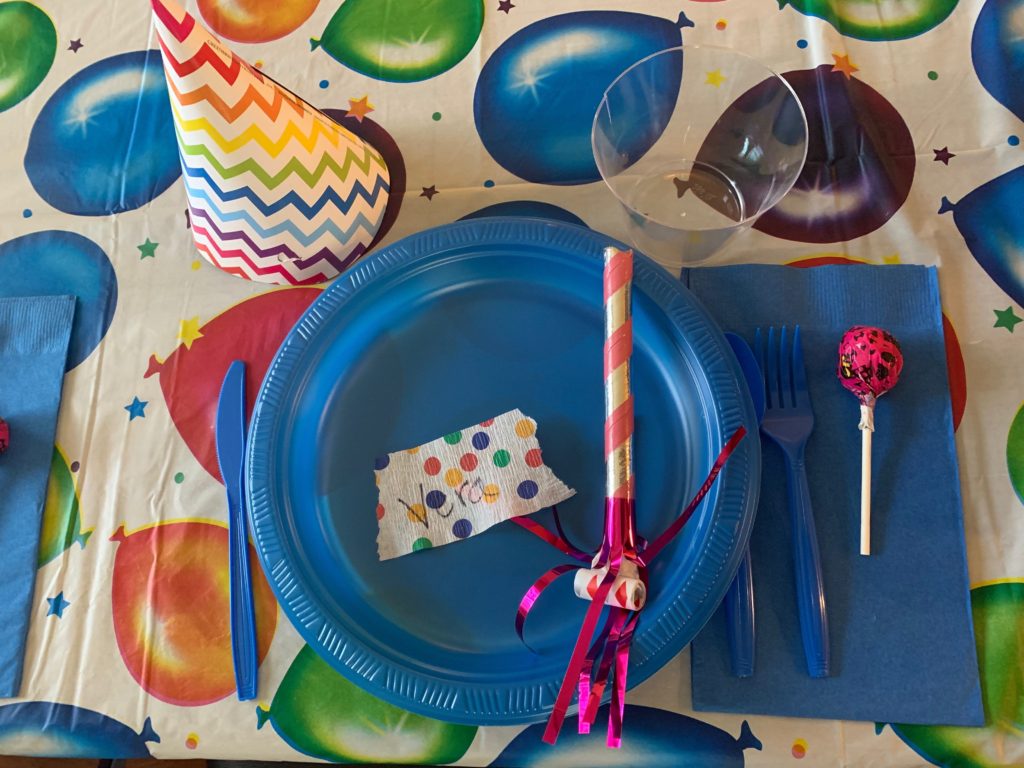 Frozen Animal Rescue Sensory Bin!
This is always a winner of an activity during the winter months in my classroom and is great for promoting independent play as well as problem solving. All you will need is:
-A container
-Some small plastic figurines (we use arctic animals but anything is fun! Cars, legos, little dolls and animals)
-Water
-Food coloring and glitter if you're feeling fancy
-A freezer
-different types of tools: plastic hammers, spoons, squirt bottles
The main thing is that you need to think of this idea the day BEFORE you plan to use it. So, the night before, fill up your container with water and figurines add a little food coloring or glitter (optional), and pop it in the freezer. Involving your preschooler with this set up process could lead to some great conversation about how water turns into ice!
Pop the frozen mass into a larger tub or the sink, lay out your plastic hammer and spoons and let your child loose!
Here is the best part of this activity: It takes some time and attention! You and your preschooler can engage in meaningful conversation as you discover new ways to set the frozen toys free. Try salt, scrubbers, or warm water. Experiment together!
Here is a great link if you're interested in more details:
Baking Soda + Vinegar= Endless Entertainment
The best part about this activity is that you probably already have everything you need in your cupboard! It's perfect for preschoolers who are learning their colors, refining their pencil grip skills and it has the cool factor of a science experiment! Here's what you need to round up:
-A large rimmed cookie sheet
-A medicine dropper
-Baking Soda
-White Vinegar
-Food coloring or liquid water colors
Have your child shake the baking powder all over the cookie sheet. Then, use the medicine dropper to drop different colors all over the baking soda, next let your child drip vinegar on top of the drops of color….drop, bubble, fizzz, IT IS PURE MAGIC!!! Don't be surprised if your child gets super into this and wants to do it over and over! (We buy the Costco sized baking soda and vinegar for just this reason).
Here is a detailed link:
Fizzing Colours! A Baking Soda and Vinegar Experiment for Preschoolers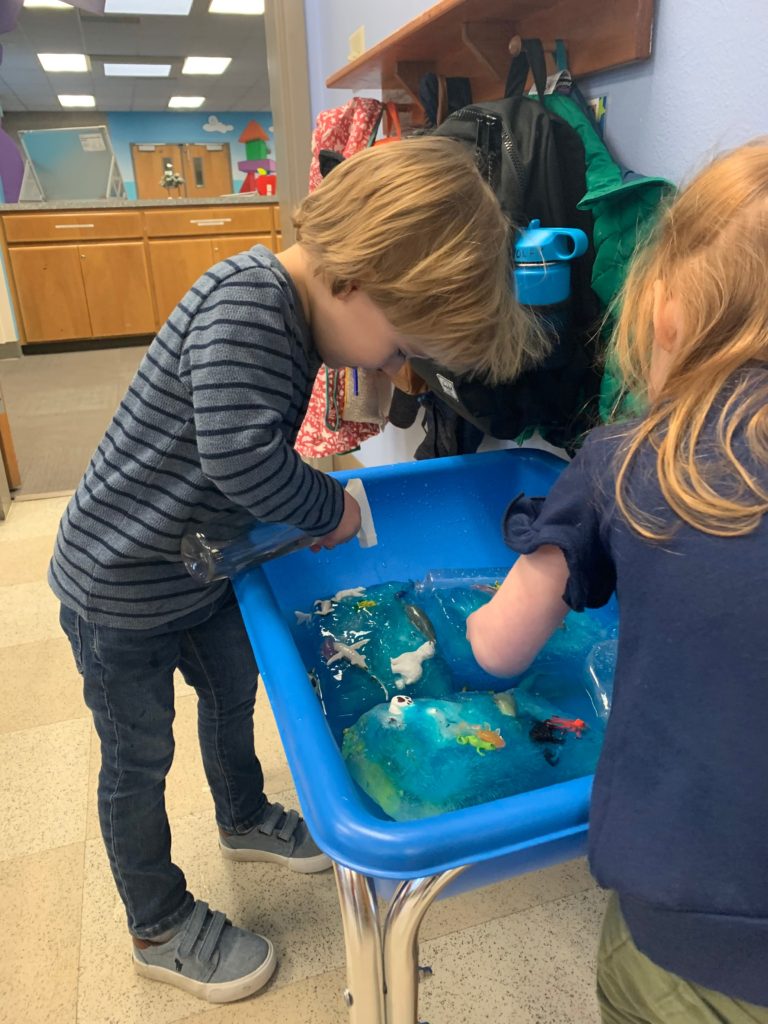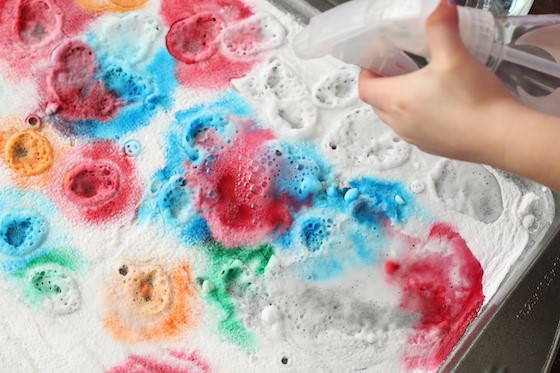 Photo Credit: happy hooligans.com