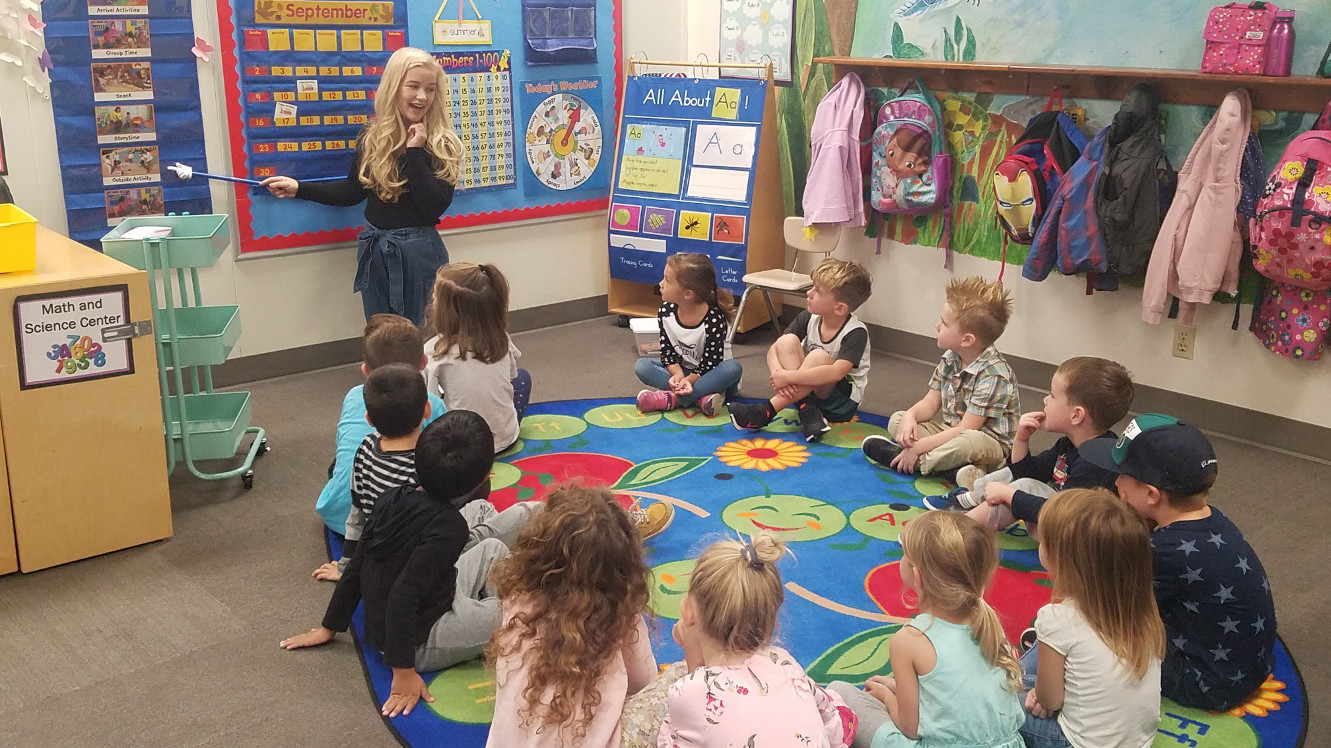 2 Day Classes
Our 2.5's and 3's classes are perfect for both the first-time preschooler and for children who have previously been in a co-op or other preschool settings. The classrooms are filled with age appropriate learning, customized with rich and stimulating opportunities for all learning styles. Classes are staffed with highly trained/degreed teachers. Children must be 2.5 by August 31st.
Mondays and Wednesdays, 8:45am – 11:45am
Tuesdays and Thursdays, 8:45am – 11:45am
Full & Half-Day 3 Day Classes
Our 3 year old's are developing a "sense of belonging" in the world– in relationship to family and friends. They will learn about their five senses, gain an understanding that they were created uniquely with special gifts and talents. The classroom is filled with age appropriate learning that includes cooperative play, creativity, and building responsibility with a sense of accomplishment. Children must be 3 by August 31st and must be potty trained to enroll in 3 half-day classes and must be 3.5 by August 31st and potty trained to enroll in the 3 Full Days class.
Monday's, Tuesday's and Thursday's, 9:00am – 12:00pm
Monday's, Tuesday's and Thursday's, 8:45am – 2:45pm
Full & Half-Day Pre-K Classes
Our 4 and 5 Year-old classes are designed to build into each child strong character traits through a Biblical world view and to equip children to be lifelong learners. This is accomplished by providing classroom opportunities that focus on a blend of development and academic experiences. Children must be 4 by August 31st to enroll in the Half-Day Pre-K class and Full-Day Pre-K class.
Monday through Thursday, 9:30am – 12:30pm
Monday through Thursday, 8:45am – 2:45pm
Full Kindergarten Class
Kindergarten is a time of building a strong academic foundation and nurturing a lifelong love of learning. Our Kindergarten classroom is rich in environment, increasing your child's motivation to learn and their opportunity for success in school. Your child will receive a quality education that will allow them to thrive in a loving and safe community and strengthen them in faith and family values. Units of study combine Bible stories, hands on math, reading made fun, science and discovery, along with music and art. Frequent family social events are also planned to provide an enriched learning environment. Children must be 5 by August 31st.
Monday through Thursday, 9:00am – 3:00pm
City Kids Club – Currently Unavailable

This is our extracurricular elective for students ages 3-5 years old. This program will extend your child's day 1.5 hours for half-day students only. City Kids Club is a theme or unit based elective, designed to give your child further hands-on experience in a fun and loving environment. Payment must be received in advance to participate in this program.
Four days per week (Mon-Thurs): $200/month
Three days per week (MTTh): $170/month